Catherine Price
Catherine Price is an award-winning science journalist and author of Vitamania: How Vitamins Revolutionized the Way We Think About Food. Her work has been featured in The Best American Science Writing, The New York Times, Popular Science, The Washington Post Magazine, Salon, Slate, Men's Journal, The Los Angeles Times, Parade, Self, Outside, the San Francisco Chronicle and O, the Oprah Magazine, among other publications.
Her newest book, How to Break Up With Your Phone, investigates the effects our smartphones are having on our brains, health, and relationships, and provides an evidence-based plan designed to help us create healthier relationships with our devices.
---
Dr Yasmine Probst
Advanced Accredited Practising Dietitian – University of Wollongong
Dr Yasmine Probst is an Advanced Accredited Practising Dietitian with a passion for exploring the unknowns areas of Nutrition and Dietetics.
Yasmine works within the clinical trials research team at the University of Wollongong with a specific focus on dietary methodology, dietary modelling and food composition.
She is currently exploring the food matrix; which uses data mining techniques and develops advanced methodologies to map the way the naturally occurring chemical substances in food interact with each other.
In 2013, she developed a virtual interdisciplinary Centre for Nutrition Informatics and is a leader in food composition data use in Australia. Yasmine has presented her research at a number of national and international conferences and is widely published.
---
Dr Eric Churchill
Medical Doctor – Baystate Medical Center
Dr Eric Churchill is a primary care doctor at the Bayside High Street Health Centre in Springfield, Massachusetts. Dr Churchill is currently principal investigator on a research project on scurvy in the urban environment. The study focuses on a cluster of patients believed to be the largest in the developed world outside of wartime and natural disasters.
Dr Churchill also has Master's degree in Cognitive Neuroscience, from McGill University and a Master's in Public Health from Johns Hopkins University. Eric is currently an Assistant Professor in the departments of Internal Medicine and Family Medicine at the University of Massachusetts. He is active in multiple areas of medical education, clinical practice and research with a focus on community medicine in underserved urban communities.
---
Dr John Waller
Historian of Science & Medicine – Michigan State University
Dr Waller is an Associate Professor of the History of Medicine and an expert on the History of Modern Medicine, including the scourge of scurvy, a once devastating disease caused by a lack of Vitamin C in the diet.  He received Master's degrees from the University of Oxford and Imperial College, London, and a PhD from University College, London. John has published seven books, including Discovery of the Germ, a study of how we worked out that bacteria and viruses cause disease, and Health and Wellness in Nineteenth-Century America, which explores changes in medical theory, practice and the disease burden in america during the 1800s.
---
Prof Fiona Stanley
Epidemiologist – University of Western Australia
Fiona Stanley AC, FAA, FASSA is noted for her public health work, and her research into child and maternal health, and birth disorders such as cerebral palsy. She is the Founding Director and Patron of the Telethon Kids Institute and Distinguished Research Professor, School of Medicine at the University of Western Australia, Director, ANDI (Australian National Development Index) at the University of Melbourne. Trained in maternal and child health, epidemiology and public health, Professor Stanley has spent her career researching the causes of major childhood illnesses such as birth defects.
Her major contribution has been to establish the Telethon Kids Institute, a unique multidisciplinary independent research institute focussing on the causes and prevention of major problems affecting children and youth. She has over 300 publications, books and book chapters. She is a board member of the Gurrumul Yunupingu Foundation, a Governor of The Ian Potter Foundation and a former member of the Prime Minister's Science, Engineering and Innovation Council, and a former board member of the Australian Broadcasting Corporation, and has served on major international, national and local committees. For her research on behalf of Australia's children and Aboriginal social justice, she was named Australian of the Year in 2003 and in 2006 she was made a UNICEF Australia Ambassador for Early Childhood Development.
---
Dr Mathilde Touvier
Nutritional Epidemiologist
French National Institute of Health and Medical Research (INSERM) Dr Mathilde Touvier is an epidemiologist on the Nutritional Epidemiology Research Team (EREN) at the French National Institute of Health and Medical Research (INSERM). Mathilde is currently a co-researcher on NutriNet-Santé a large-scale, 20 year project studying the relationship between nutrition, dietary supplements, and diseases. She is also the co-author of more than 155 scientific publications in international, peer-reviewed journals. She is regularly consulted as an expert by public bodies such as French National Cancer Institute (INCa), French Agency for Food, Environmental and Occupational Health & Safety (ANSES) and International Agency for Research on Cancer (WHO-IARC).
---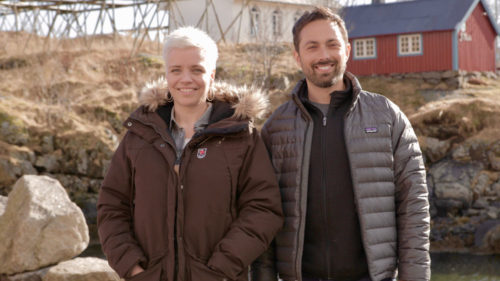 Prof Magritt Brustad
Nutritional Epidemiologist The Arctic University of Norway (UIT)
Magritt Brustad is a Professor in Nutritional Epidemiology at the Department of Community Medicine, The Arctic University of Norway (UIT).
Professor Brustad's academic career has been motivated by a genuine interest in the health of Arctic communities and has initiated many research projects in the Arctic region. Brustad has been the lead investigator on projects studying the role coastal fishing & food traditions play in Vitamin D deficiency prevention and how Vitamin D is produced in human skin when exposed to the Arctic sun.
Professor Brustad's work on the relationships between vitamin D and health has been widely published. As a member of the Norwegian Council of Nutrition, she regularly provides scientific-based advice at a national level on strategies to secure sufficient vitamin D status in the Norwegian population.
---
Diane Wendt
Curator – Smithsonian Institution's National Museum of American History
Diane Wendt is a curator in the Division of Medicine and Science at the Smithsonian Institution's National Museum of American History. She specializes in the history of pharmacy, patent medicines, and consumer health products. Diane has published several articles on the cultural history of vitamins, including The Man With A Fish On His Back and Vitamins Come To Dinner. Her expertise in medical history gives us an insight into the cultural origins of supplements and vitamins.
---
Associate Prof Rachel Neale
Cancer Epidemiologist – QIMR Berghofer Medical Research Institute
Dr Rachel Neale is a senior cancer epidemiologist who has studied pancreatic and skin cancers; and more recently the health effects of vitamin D. She received her PhD from the University of Queensland and completed a two-year postdoctoral fellowship at Oxford University, United Kingdom. She has published over 150 papers and has extensive experience in case-control and cohort studies. Her work has contributed to the discovery of environmental and genetic risk factors for pancreatic
Rachel is currently the lead investigator for D-Health Trial, the second-largest clinical trial of high dose Vitamin D in the world. They are looking into whether routine supplementation of the general population with vitamin D can deliver health benefits.
---
Prof Tim Spector
Geneticist & Author — The Diet Myth
Tim Spector is Professor of Genetic Epidemiology at King's College London and Director of the TwinsUK Registry, which has one of the world's richest data collections on 11,000 twins.
He is ranked in the top 1% of most cited scientists and has written several books, including The Diet Myth: The Real Science Behind What We Eatand Identically Different: Why You Can Change Your Genes.
In The Diet Myth Spector explores the complex relationship between our genes, the bacteria in our digestive system, and the food that we eat and believes this will revolutionise our understanding of nutrition.
---
Dr Pieter Cohen
General Internist – Harvard Medical School
Dr Pieter Cohen is a general internist at Cambridge Health Alliance in Somerville, Massachusetts, A Yale graduate and Associate Professor of Medicine at Madison and Harvard Medical School. Dr Cohen's area of clinical expertise and research includes weight loss, preventive medicine and dietary supplements.
He has been described in Science as "….a mix of Indiana Jones and Sherlock Holmes in the supplement world" often tries to solve the mystery illnesses that appear to be caused by supplements many consumers presume are safe.
His work has been published in the New England Journal of Medicine, JAMA, JAMA Internal Medicine and the American Journal of Public Health. Dr Pieter Cohen along with his colleague Dr Hochman co-founded the educational series Updates in Slow Medicine.
---
Dr Steven Novella
Neurologist – Yale University School of Medicine
Steven Novella, MD is a clinical neurologist and Assistant Professor at the Yale University School of Medicine. He is also the founder of Science-Based Medicine, the president and co-founder of the New England Skeptical Society, the host and producer of the popular weekly science podcast, The Skeptics' Guide to the Universe, and the author of the NeuroLogicaBlog, a daily blog that covers the intersection of science with the media and society.
Dr Novella is highly critical of what some describe as "…the infiltration of quackery into academic medicine." Instead, he is an outspoken and vocal advocate for scientific based medicine an approach that is dedicated to using a scientific approach to medical treatments and trials.
---
Prof Walter Willett
Nutritionist and Epidemiologist – Harvard Chan School of Public Health
Walter C. Willett, M.D., Dr P.H., is Professor of Epidemiology and Nutrition at Harvard T.H. Chan School of Public Health and Professor of Medicine at Harvard Medical School.
Dr Willett advocates for a sensible and careful approach to consuming supplements. Dr Willett is the most cited nutritionist internationally, he has published over 1,700 original research papers and written the textbook, Nutritional Epidemiology. He is also the author of four books for the general public, the best known being Eat, Drink, and Be Healthy: The Harvard Medical School Guide to Healthy Eating.
---
Dr Grace Douglas
Advanced Food Technology Lead Scientist, NASA
Dr Grace Douglas serves as the lead scientist for NASA's Advanced Food Technology research effort, which focuses on determining methods, technologies, and requirements for developing a safe, nutritious, and palatable food system that will promote astronaut health during long-duration space missions. Her responsibilities include assessing the risk of an inadequate food system to crew based on vehicle design and mission concept and developing the research path that will ensure the food system meets crew health requirements on spaceflight vehicles. Her work includes investigations into novel processing, packaging, storage, probiotics and functional foods, which has relevance for the whole food industry. She has earned a B.S. and M.S. in food science from the Pennsylvania State University and North Carolina State University, respectively, and a PhD in functional genomics from North Carolina State University.