We know that vitamins are essential for our health and we've heard we can easily get vitamins from our food. But how much food do we need to get our recommended daily vitamin intake?
The answer is, well not that much.
The plate below is a very close representation of the RDI or Recommended Daily Intake of raw vitamins that an adult male needs to get from their food each day to stay healthy.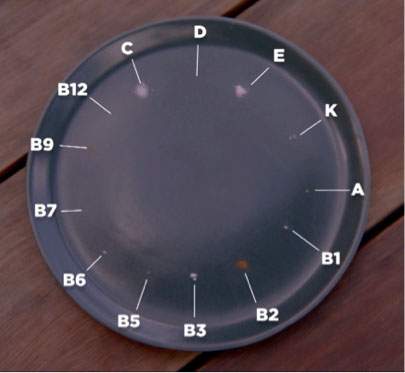 Recommended Daily Intakes or RDIs refer to the levels of essential nutrients needed to meet the nutrient requirements of almost all healthy people. Since RDIs factor in the needs of a diverse group of people (all healthy adults) a generous allowance for variations in absorption and metabolism has been factored in. When there isn't enough data to generate an accurate RDI, Adequate Intake or AI is used instead. An AI is a scientific estimate for the essential nutrient intake we may need.
And here are the actual figures:
| A | B1 | B2 | B3 | B5 | B6 | B8 | B9 | B12 | C | D | E | K |
| --- | --- | --- | --- | --- | --- | --- | --- | --- | --- | --- | --- | --- |
| (Precursor) | Thiamine | Riboflavin | Niacin | Pantothenic acid | | Biotin | Folate | Cobalamin | Ascorbic acid | | | |
| 900 μg/day | 1.2 mg/day | 1.3 mg/day | 16 mg/day | 5* mg/day | 1.3 mg/day | 30* μg/day | 400 μg/day | 2.4 μg/day | 90 mg/day | 15 μg/day | 15 mg/day | 120* μg/day |

μg/day – Micrograms per day
mg/day – Milligrams per day
Data is for Males, 31-50 years old
Asterisked (*) data is the Adequate Intake, which is an estimation due to there not being sufficient information to determine a more rigorous recommended dietary allowance
Source:  http://nationalacademies.org
It is actually very easy for our bodies to absorb nutrients from food. In fact for healthy children and adults nearly all vitamins and nutrients are at their most potent when sourced directly from food, rather than synthetically. The notable exception is folate (B9). Folate is better absorbed by the body in its synthetic form – folic acid – than as folate from food sources. At the same time we are absorbing vitamins from our food, our bodies are also extracting other important novel nutrients, like phytochemicals, minerals, amino acids and proteins that are integral to our overall health. Even though most vitamins supplements are synthesized to the exact chemical composition of naturally occurring sources, they still don't work as well when taken in isolation because their absorption is synergistically influenced by the other components of food. That is without these nutrients the vitamins themselves aren't absorbed as effectively. Which is why having a balanced diet is so important to our well being.
VITAMINS IN OUR FOOD
---